Events
2020 Physics Induction Programme
◊ Foundation (Level 3) and First Year Physics (Level 4) Programmes
This year, Academic induction runs for 2 weeks – starting on Monday 14th September and will be entirely online.
You need to make yourself available from that date. During this time, we will be introducing you to the teaching team and to the modules that you will be studying from the end of September. Please be prepared to be available online every day between 11am and 2pm for Physics-based induction events.
Main teaching starts on Monday 28 September 2020. The Physics Department is based in the Newton Building (location of the Newton Building). If you are unsure where certain rooms are, then please follow the signs to the School Reception (which is on the first floor of the Newton Building). Reception staff can help you to find your way.
Buildings Used For Teaching:
You will find that classes are most commonly held in the Newton, Chapman, Peel and Maxwell buildings.  Occasionally, some other key buildings are also used. Here is a schematic of the positions of these buildings.


Some General University Maps: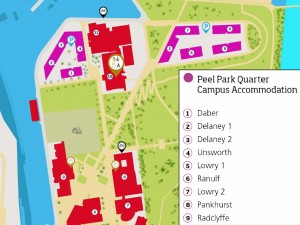 ◊ An Official University Campus Map
Centrally-organised Induction Events:
Students' Union Welcome Events
Physics Induction Events, Presentations and Recordings
This year, full details of the 2-week Induction are hosted within our Virtual Learning Environment called Blackboard.  You will need your network username and password to access this Blackboard site:
Recordings of all the main sessions within Blackboard are available here, along with access to copies of the presentations given.