September 2022 Physics Induction Programmes
This year, Academic Induction runs for one week – starting at 11am on Monday 12th September 2022.
All Foundation and First Year students need to make themselves available from that date. During this time, we will be introducing you to: the teaching team, the modules that you will be studying from the following week, organisational aspects, and each other.
The Induction Programme for Foundation and First Year students will run from Monday 12th September to Thursday 15th September (inclusive). There are alternative arrangements for students entering Second Year and above.

Foundation and First Year students need to be prepared to be present on-campus Monday to Thursday for the periods 10am-12pm and 2-4pm for Physics-based induction events (the Monday and Wednesday sessions start at 11am).
Induction Programmes for Foundation and First Year Students
Physics Induction events are mainly in the new SEE Building, but start in the Lady Hale Building – which is very close to the SEE Building.  SEE stands for Science, Engineering & Environment (the name of our School). Both of the above buildings, and some others involved in induction week, can be identified in the following schematic map.
◊  Induction Programme for Foundation Year  †
◊  Induction Programme for First Year Physics
† The same Foundation Year induction programme applies for Physics / Mathematics / (Electrical and) Electronic Engineering / Acoustical & Audio Engineering with Foundation Year

Programme Information Sessions (Tuesday morning)
◊  Foundation Year Presentation
Centrally-organised Induction Events
The University and Students' Union will be running their own events and activities outside of the above days and times during Induction Week.
◊   University Welcome Events

◊   Students' Union Welcome Events
Teaching Start (the week after Induction Week)
Main teaching starts on Tuesday 20 September 2022 [updated: there will be no teaching on Monday 19 September because of the extra Bank Holiday associated with the Queen's Funeral].  The Physics Department is based in the new SEE Building (see the maps, and also the floorplan of this building, that are further down this page). If you are unsure where certain rooms are, then please visit Reception at the main entrance of the SEE Building. Reception staff can help you to find your way.
Teaching timetables are now available. Screenshots of these are within the Teaching Timetables section.  They can also be found on the official Online Timetable System : click on "Semester View". Click on the "Programme of Study" box and enter, for example, "Physics" in the search box.  Select "S/P/F: Physics" or "S/PFY/F: Physics with Foundation Year". Adjust the date range to finish on, say, 19-Dec-2021 and click "Generate" to see the Trimester 1 timetable.
A full breakdown of the 2022/2023 courses being taught can be found within Current Courses, their assessment deadlines are summarised in Assessment, and the structure of the full academic year can be found in Year Calendars.
Buildings Used For Teaching
You will find that classes are most commonly held in the SEE, Newton, Chapman, Peel and Maxwell buildings.  Occasionally, some other key buildings are also used. Here is a schematic of the positions of these buildings.
The SEE Building, University Maps and Traveling to the University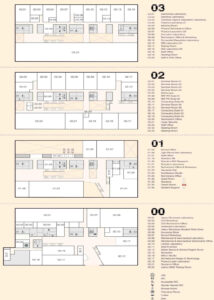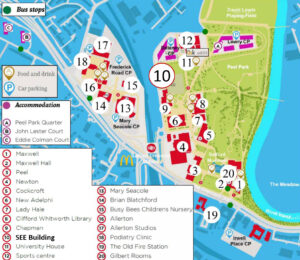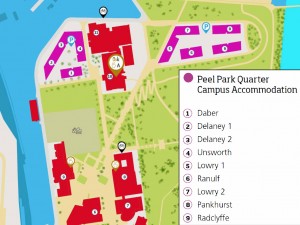 ◊ An Official University Campus Map
◊ Official Advice on Travelling to the University of Salford